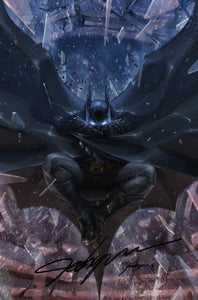 ×
Batmans Grave #1 B (OF 12) Signed Jeehyung Lee Card Stock Variant DC
BATMANS GRAVE #1 (OF 12) CARD STOCK VAR ED
(W) Ellis, Warren (A) Hitch, Bryan (C) Lee, JeeHyung

The World's Greatest Detective must try to inhabit the mind of a murder victim to solve a case-without filling the empty grave next to those of his parents. Can Batman imagine the life of a corpse with a half-eaten face without dying himself? Warren Ellis and Bryan Hitch- one of the most legendary creative partnerships of the modern age- reunite in this maxiseries about life- death and the questions most are too afraid to ask.


Signed Copy comes with COA.