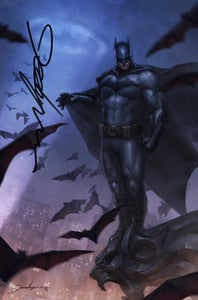 ×
Batmans Grave #3 B (of 12) Signed Jeehyung Lee Variant DC with COA
BATMANS GRAVE #3 (OF 12) VAR ED
(W) Ellis, Warren (A) Hitch, Bryan (C) Lee, JeeHyung
DC COMICS

A corrupt politico dies by his own hand- but James Gordon is convinced there's something more to it. Now- it's time to ask for access to the Batman's resources. And that is why- right now- in a stately Gotham City mansion- the Batman is being beaten to death.
Signed Book comes with COA.